Spanish Material

Apostle Alberto Florez Granados and his wife Marion are based with us in Toowoomba, Australia. Alberto came to us in 2008, having moved to Australia from Columbia. He is ordained as an apostle of Jesus Christ (Ephesians 4:11) and he ministers into the nations of South America, preaching and teaching the apostolic doctrine (Acts 2:42).

Alberto has also translated much of our teachings into Spanish. We have the teachings available online.
Click on the links below to download the teachings as PDF.
Material en Espanol
El apostol Alberto Florez-Granados y su esposa Marion estan establecidos en Toowoomba, Australia. Nos relacionamos con Alberto en el 2008, despues de haber inmigrado a Australia desde Colombia. El es un apostol de Jesus el Cristo (Ef.4:11), ministra en las naciones de Sur America, predicando y ensenando la doctrina apostolica (Hechos 2:42).
Nuestro material en espanol es traducido por Alberto, el cual esta disponible en la pagina web.
"APOSTOLES HOY" contiene varios aspectos
relacionados con la comprension y la "gracia y
apostolado" que Dios nos ha entregado a traves de Jesucristo para la redencian y discipulado a las
naciones.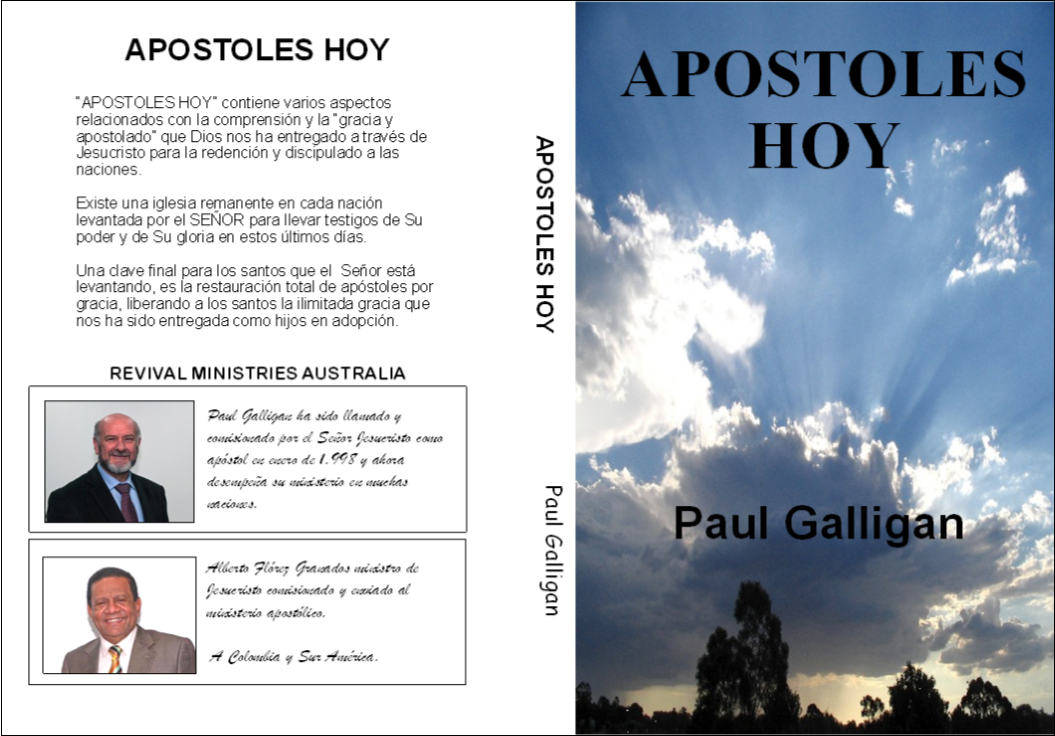 Haga clic en los enlaces para descargar las ensenanzas en formato PDF.

Manuals:
Booklets - NEW
Teaching Brochures - NEW

Newsletters
2023
SEPTIEMBRE/OCTUBRE:
LA RESPUESTA A TIEMPOS PELIGROSOS
JUNIO: LA CASA DE DIOS
FEBRERO: MELQUISEDEC
MAYO: PENTECOSTÉS
¡DERRAMAMIENTO DEL ESPÍRITU SANTO!
2022
2021
2020
Enero: LA OBRA DEL MINISTERIO
Junio: MINISTROS DEL MISTERIO
Julio: SOLO HABLA LA PALABRA!
Agosto: COMPANIA APOSTOLICA
Octubre: CRISTO, SOBRE TODO - la realidad de la victoria
2019

Enero: ¿PUEDEN ESTOS HUESOS VIVIR?
Febrero: LA AUTORIDAD DEL REY
Marzo: AQUEL QUE TODO LO LLENA EN TODO
Abril: EL DIOS QUE RESUCITA LOS MUERTOS
Septiembre / Octubre: PADRES E HIJOS
2018
Enero: REALIDADES DEL EVANGELIO
Febrero: PROFETAS DEL NUEVO TESTAMENTO
Marzo: LA PROMESA DE RESTAURACION
Abril: LA BUENA CONFESION
Mayo: LOS HIJOS PLANTADOS REVELAN LA GLORIA
Junio: UN PUEBLO DE PACTO
Julio: SEGUIDME A MÍ COMO YO SIGO A CRISTO
Agosto/Septiembre: EL CIELO
Octubre: CRISTO EL UNGIDO
Noviembre: A MI MESA EN MI REINO" LUCAS 22:30

Diciembre: LA IGLESIA EN ACCION
2017
Enero: PERMANEZCA EN EL BLANCO
Febrero: CRISTO Y NUESTRA CONFESION
Marzo: ORANDO EN EL ESPIRITU SANTO
Abril: COMUNIDAD CRISTIANA
Mayo: ESTABLECIDOS EN LA VERDAD ACTUAL
Agosto: DIOS NUESTRO PADRE
2016
Enero: LA RENOVACION DE LA MENTE
Marzo: CRISTO - Las Primicias de la Resurreccion

Abril: El alimento que permanece para vida eterna
Mayo: HIJITOS GUARDAOS DE LOS IDOLOS
Junio: LA OBEDIENCIA A LA GRAN COMISION
Julio:EL HOMBRE ESPIRITUAL
Augosto:A QUE SIGNIFICA SER "SALVO"

Download PDF View Online
Septiembre/Octubre:HIJOS DE LA PROMESA

Download PDF View Online
Noviembre:AVIVAMIENTO DEL DISCIPULADO

Download PDF View Online
2015

Enero: PREPARACION PARA LA VENIDA DEL SENOR
Febrero: EL ABC DEL EVANGELIO
Marzo: TU PALABRA ES VERDAD
Abril: LA PALABRA DE DIOS
Mayo: LAS COSAS QUE DIOS DETESTA
Junio: EL MODELO APOSTOLICO
Octubre: LA VENIDA DEL SENOR Y LA RESURRECCION
Noviembre: EL MENSAJERO DE YAHWEH