An Apostolic Ministry to the Nations
Our mandate:
To make disciples of all nations

Matthew 28:18-20

To train and equip workers for the harvest

Matthew 9:37-10:40, Luke 10:1-20

To bring the church to maturity by fathering sons

Galatians 4:19, 1 Corinthians 4:14-17
Rom 1:5, "For we have received grace and apostleship for obedience to the faith among all nations for His name."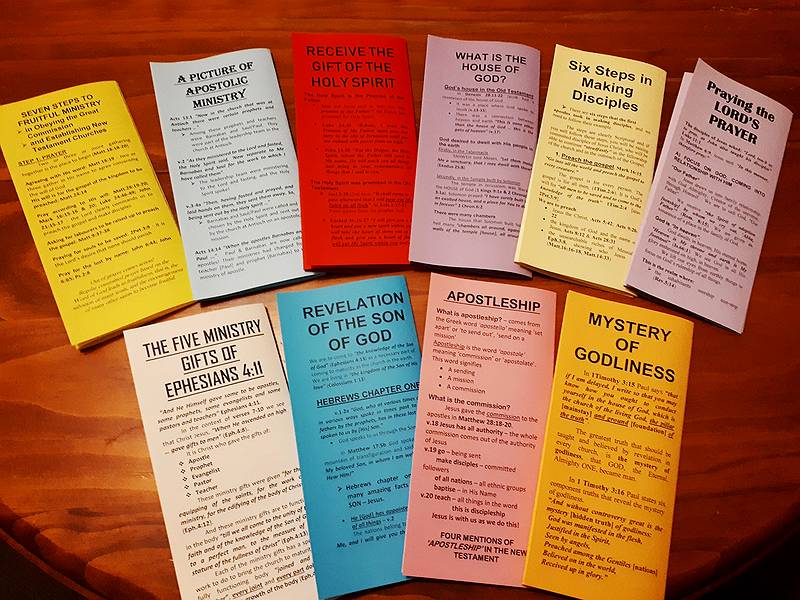 NEW SCHOOL AVAILABLE ON YOUTUBE + MUCH MORE - FOLLOW THE LINKS BELOW


*NEW* JANUARY 2021 International Apostolic School 'Things New and Old'
The apostolic work is growing and bearing fruit in the nations.
As an apostolic ministry we are reaching into over 50 nations.
We are dedicated to be obedient to the commission, and see every nation reached with the gospel of Jesus the Messiah.


** DECEMBER 2020 **
A MEASURE OF REVIVAL -
Some Promises of God to us from the Book of Ezra
"And now for a little while grace has been shown from YAHWEH our God, to leave us a remnant to escape and give us a peg in His holy place, that our God may enlighten our eyes and give us a measure of revival in our bondage.
For we were slaves. Yet our God did not forsake us in our bondage; but He extended mercy to us in the sight of the kings of Persia, to revive us, to repair the house of our God, to rebuild its ruins, and to give us a wall in Judah and in Jerusalem" Ezra 9:8-9.
It is marvellous to think that a prayer of Ezra's approximately 2,500 years ago is being answered today. These two verses of Scripture came up in our daily reading a few weeks ago [many of us read the Scriptures on a daily basis, following a plan which enables us to read the whole Bible in one year]. It seemed that we had not noticed the request for "a measure of revival", but suddenly it was there and God was speaking through these verses.
How we have longed for a measure of revival! We have reviewed previous 'revivals' that we have been involved in and have been praying for revival to come again, but happily saying to God, 'not like the past revivals' but the revival, a time "of refreshing" (Acts 3:19), which will usher us into the purpose of God in our time [the days we are living in].
Everything is by Grace
The first thing we need and are totally dependent upon is the grace of God. We have experienced that grace since God first brought us to salvation in Jesus Christ (Eph.2:8), and the profound release of grace that we experienced as God brought us in to the "predestined adoption as sons by Jesus Christ to Himself" (Eph.1:5). This has been "to the praise of the glory of His grace" (Eph.1:6). This began in a wonderful season in 2002, and in the ensuing years we ministered the grace of adoption (Rom.8:15, Gal.4:5) to many brethren in many nations.

Shiloh Centre Toowoomba
Shiloh Centre is a discipleship, training and resource Centre to the body of Christ.
We are open most days of the week and there is often something on that you are welcome to be a part of.
*TEACHING TRANSLATIONS*


Follow Revival Ministries Australia on Facebook with current reports and photos of the ministry work here in Australia and also overseas.
Please note: you do not need a Facebook account to access the Revival Ministries page. Simply just click on the link above and enjoy the reports. 

New Scripture in Song Album